home > safety flooring > miscellaneous > industrial tiles

Industrial Tiles

EcoTile is a versatile heavy duty flooring that introduces numerous advantages over conventional finishes. Ideal for new, or the refurbishment of existing floors.

Consisting of flexible 7mm thick interlocking tiles, EcoTile is manufactured from 100% re-cycled PVC and is available in nine standard colours and two surface textures.


EcoTile can be laid over any hard surface with minimal or no surface preparation, ensuring quick and trouble free installation even on damaged, damp or contaminated substrates.






Typical Areas of Use

EcoTile is suitable for floors that experience high levels of traffic, impact, abrasion or vibration damage, solvent and chemical spills. The tiles can be loose laid over any hard surface, including concrete, wood or metal to create a hard wearing, dust free and safe anti-slip work surface.

Ideal for factories, warehouses, print rooms, clean rooms, sorting offices, coin rooms, shops & offices, public buildings, schools, canteens, corridors, fitness centres or garages.


An Asset, not a Liability


EcoTile's unique design means that you can alter, add or take away tiles to suit your changing requirements. The system is transportable, take it with you as you grow.

With TPM at the forefront of most engineers minds, EcoTile will ensure minimum downtime during both installation and maintenance. In the event of an accident, damaged tiles can be lifted and replaced quickly and simply.


Installation

EcoTile is quick and simple to install using either your own labour, local contractors or EcoTile's team of experienced fitters. All materials are supplied with detailed installation guidelines.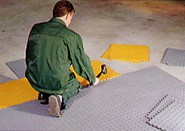 No special tools or equipment are required, all you will need is a mallet, an electric jigsaw to cut the tiles to size, a measure, chalk line, a sharp knife and some knee pads!

Installation of EcoTile should commence from the centre of the floor, working outwards in a circular pattern. It is important to remember to leave a 5mm gap in-between the tiles and any fixed point (ie walls and machinery) to allow the tiles free movement to expand and contract.
EcoTile ramp sections are available in the nine standard colours, in either the raised disk or flat textured surface finish. We are also able to supply a wide range of sit on skirting, floor repair compounds and connector profiles to compliment the EcoTile range.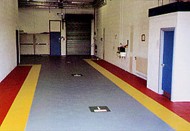 Cleaning, Maintenance and After Sales Service


EcoTile is quick and simple to clean, damp mopping, machine or hand scrubbing is ideal. To help maintain EcoTile's appearance and anti-slip characteristics two/three coats of sealer should be applied to the tiles after installation. Our technical department would be pleased to offer further advice on cleaning and maintenance as required. EcoTile is covered by a five year warranty covering all manufacturing defects.
TECHNICAL DATA
Combustability:

DIN 51960
BS 476 - part 1
ASTM E84

Klasse 1
Class 2
Class 1

Electrical Resistance:

DIN 53482
DIN 53482
DIN 51953

Roa - 1 x 1014Ohm
gD = 8.6 x 1013Ohm cm
>106 Ohm m
Anti-slip:

ASTM C-1028-89

Good static coefficient
of friction

Mechanical Resistance:

DIN 53504

17 N/mm2

Dry 1.12/Wet 1.05

Resistance to Wear:

DIN 53516

89.47mm3

Chemical Resistance:

DIN 51958

Hydrochloric Acid 96%, Ethanol 96%, Methanol 100%
Acetic Acid 100%, Nitric Acid 69%, Sulphuric Acid,
Chromic Acid 40%, Oils, Gasoline, Urine
PRODUCT DESCRIPTION


| | | | |
| --- | --- | --- | --- |
| Tiles: | Interlocking by means of 48 dovetail joints | | |
| Manufacturing: | Injection Moulding | Thickness: | 7mm |
| Material: | PVC (100% recycled) | Weight: | approx 8.3 kg/m2 |
| Tile Dimensions: | 500 x 500mm | Hardness: | >87 shore A |
| Ramp Dimensions: | 500 x 120mm | Surface Texture: | Raised Disk or Flat Texture |

Raised:12.100
Flat: 12.101

Raised:12.200
Flat: 12.201

Raised:12.220
Flat: 12.221

Raised:12.300
Flat: 12.301

Raised:12.320
Flat: 12.321

Raised:12.400
Flat: 12.401

Raised:12.500
Flat: 12.501

Raised:12.600
Flat: 12.601

Raised:12.700
Flat: 12.701

Other colours available by request and subject to a minimum order quantity

"PICTOTILE" FLOOR MARKING SYMBOLS

PictoTiles can be inserted into your EcoTile floor to create highly visible signs in the event of smoke obscuring conventional signs or to highlight safety hazards.
The markings go right through the tile to create a permanent durable sign resistant to wear and abrasion
Raised:13.630
Flat: 13.631

Raised:13.410
Flat: 13.411

Raised:13.550
Flat: 13.551

Raised:13.640
Flat: 13.641

Raised:13.660
Flat: 13.661

Raised:13.420
Flat: 13.421